12 Volt LED lights. Not Battery Lights.
*** Please Read ***
12th scale 12 volt LED lights. These LED lamps have a resistor installed in the wiring so you can plug these lights directly into your current wiring or into their own transformer. Not supplied. It doesn't matter which way they are plugged in. The wiring on these lamps can be a bit cumbersome because of the resistor and the shrink sleeving but that's a small price to pay for the longevity, brightness and no hot bulbs.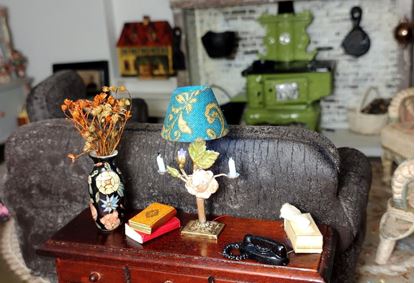 C17-Lmp-BL-Gld
Brass lamp with a blue and gold fabric shade. 12 volt LED.